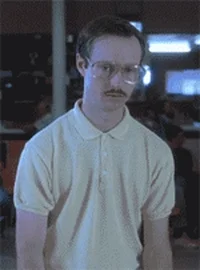 https://media.giphy.com/media/m745dTCAxerHa/giphy.gif
Federal criminal practitioners spent over a decade trying to figure out what the heck a "violent felony" was under the
Armed Career Criminal Act
's so-called "residual clause." In 2015, the Court put an end to this misery and held, in
Johnson v. United States
, that the residual clause is unconstitutionally vague.
Johnson
and its issue have liberated numerous federal prisoners from lengthy sentences.
Johnson
has also forced federal courts to wade into the muck that is the
Anti-Terrorism and Effective Death Penalty Act ("AEDPA").
Johnson
made it possible for men and women to file motions to vacate and correct their sentences under
28 U.S.C. § 2255
, which otherwise requires prisoners to file such motions within 1 year after their conviction (after appeals) becomes final. There are two types of people who file these motions: (1) first-time petitioners, and (2) "second or successive" petitioners. First-time
Johnson
petitioners had one year to file motions to vacate their sentences because
Johnson
was a "right . . . initially recognized by the Supreme Court [that] has been newly recognized by the Supreme Court and made retroactively applicable to cases on collateral review." 28 U.S.C. 2255(f)(3). SOS petitioners have an additional hurdle to clear: they must receive a certification from the Court of Appeals, which confirms that the motion "contain[s] . . . a new rule of constitutional law, made retroactive to cases on collateral review by the Supreme Court, that was previously unavailable." 28 U.S.C. § 2255(h)(2).
Damon Raines
fell into the first category: he had never filed a § 2255 motion before. Raines is a federal prisoner who was subjected to the ACCA's 15-year mandatory minimum because he had been convicted of three crimes, which the district court believed were predicate felonies: (1) a 1991 Michigan conviction for assault with intent to do great bodily harm less than murder; (2) a 2002 federal conviction for distributing cocaine base; and (3) a 2002 federal conviction for collecting credit by extortionate means. On his own, Raines filed his first § 2255 motion to vacate his sentence within one year of
Johnson
, arguing that his third conviction for collecting credit by extortionate means is no longer a violent felony now that the ACCA no longer has a residual clause.
The government raised a number of procedural defenses to the claim, arguing that the court should not even address whether that conviction remains a predicate ACCA felony conviction: forfeiture, procedural default, and timeliness. The Sixth Circuit swiftly rejected each of these attempts to obviate the need to address the merits. Raines adequately preserved his Johnson claim in the district court by citing the case throughout his pro se briefs. He had cause for not challenging his ACCA enhancement on direct appeal because Johnson was a brand new rule announced after his conviction became final, and he suffered prejudice because (as the court later explained), the application of the enhancement was unconstitutional. Finally, Raines's motion was timely because he filed the motion less than a year after Johnson was decided.
But the greatest hurdle for Raines to clear was the government's claim that he could not obtain relief because the sentencing judge did not make clear whether his convictions were "violent felonies" under the residual clause or the two other clauses of the ACCA. As the panel noted, the government (and the 10th and 11th Circuits) require first-time petitioners to fulfill "the seemingly improbable task of proving that [their] sentencing judge[s] relied only on the residual clause in sentencing him." That was the rule of
Potter
(which we covered
here
), which held that motions for relief from the judgment must fail unless the 2255 movant can prove that his ACCA sentence was based only on the residual clause. Interestingly, Judges Cole, Gibbons, and Bush expressed disagreement with
Potter
's central holding, noting that "[t]his burden . . . presents a tall order when a movant's sentencing record . . . is silent as to which ACCA clause a district court applied." What is more, the panel noted, such silence was the norm and made sense before
Johnson
.
Despite the panel's disagreement with Potter, it was bound by that decision, and so the three judges had to decide whether Potter precluded Raines from obtaining review of his conviction. And here, the panel reined in Potter's reach, reading it to apply only when "(1) the movant is bringing a second or successive motion and (2) there is evidence that the movant was sentenced under a clause other than the residual clause, such as the sentencing judge's averment that the movant was indeed sentenced under another clause."
Chief Judge Cole went further and wrote separately to explain why Potter's holding "that a second-or-successive habeas petitioner must show that a sentence was based only on the residual clause" is wrong.
He began by noting that the Supreme Court granted relief to a similarly situated man in
Welch v. United States
, when it held that
Johnson
's holding was retroactive to cases on collateral review. Welch's case came to the Supreme Court as an appeal from a denial of a certificate of appealability. Habeas petitioners must obtain a COA from a court, which has decided that the petitioner has made a "substantial showing" that he has been denied a constitutional right.
28 U.S.C. § 2253(c)(2)
. The Supreme Court held that Welch had made such a showing even though the record was not clear as to whether the judge imposed the ACCA enhancement under the residual clause. In fact, the sentencing court had said that Welch's predicate convictions qualified under the residual clause
and
the elements clause. Despite this fact, the Supreme Court held that telegraphed that when a petition "pairs a new-rule-of-constitutional-law challenge and an old-rule-of-statutory-law challenge satisfies § 2253(c)'s constitutional right requirement . . ., then such a petition also satisfies § 2255(h)."
In Chief Judge Cole's view, "[w]hen a petitioner's sentencing record is unclear as to which clause the petitioner was sentenced under, the petitioner satisfies the 'new constitutional rule' requirement" of § 2255(h)(2) "so long as the challenge includes a claim under Johnson." Under those circumstances "any Johnson error would not be harmless," because the sentence may have rested on a ground that the Constitution forbids.
For those who bore with me through all of this procedural discussion, I hope to provide a payoff. Once the judges reached the merits of Raines's claim, they held that his 2002 federal conviction for using extortionate means to collect an extension of credit, 18 U.S.C. §894(a)(1), is not a "violent felony" for ACCA purposes. This is so because it does not have as an element the actual threatened, or attempted use of force because a person can commit the crime by causing harm to a person's reputation or property.
Raines
also provides some clues about the outcome of a battle that is already brewing. In June, the en banc court heard arguments in
Williams v. United States
(audio
here
). The court asked the parties to address whether the § 2255 movant has the burden of showing that his sentence was based only on the residual clause and what evidence should be used to decide whether the residual clause was the cause of the 15-year enhancement. Stay tuned.